Quick Start Guide for Transaction SPAU
1. Start a new action protocol
Choose Utilities->Action Protocol->Create new Protocol on the entry screen of transaction SPAU in order to create new action protocol.
2. Transfer UPL usage data
Provided that UPL measurement is configured in the SAP Solution Manager, transfer the latest usage information by executing Utilities->Configure UPL Measurement.
3. Download latest versions of implemented SAP Notes
SPAU will download the latest versions of SAP Notes before you can adjust them. If you are installing a Support Package or an Enhancement Package you can speed up this step by downloading the SAP Notes already before you start the upgrade. You do not have to implement the newly downloaded SAP Notes since they may become obsolete during the installation package anyway.
(Start SNOTE in order to download the latest versions.)
In case of complete release upgrade, you can skip this step.
5. Adjust all SAP Notes and modifications
The initial screen allows you to restrict the list of objects that will be displayed. So, You should follow the order which is suggested by the order of the tab-strips:
Adjust all SAP Notes
In order to process the obsolete SAP Notes automatically, a batch job can be scheduled. Choose the push-button "Reset Obsolete Notes" on the "Notes" for this purpose. You can work on the other SAP Notes while this job is running.
Adjust all modifications with and without modification assistant
You can select multiple objects in order to perform automatic adjustments or to reset the objects in one step.
Perform migrations
After migrations of BAdI definitions for example it is necessary that corresponding implementations are migrated as well. Choose the "Migrations" tab in order to check of one of your implementations is affected.
Deleted objects
If objects which were modified are deleted by SAP, then they are displayed on the "Deleted Objects" tab. So you can check (and even retrieve) former versions via the version database.
Translations
In many cases, translations are required after SAP Note implementations. So, If a translation is connected to an object which was part of an automatic correction instruction then the corresponding SAP Note is displayed in the selection detail area.
6. Adjust Enhancement Implementations
Changes to enhanced object can invalidate corresponding enhancements implementations. Check transaction SPAU_ENH in order to find out whether some of your enhancement implementations have to be adapted to such changes.
Please find below technical details.
Package: SPAU
Selection Screen: 1000
Program: SPAU_UI_START
Start with variant: SAP&SPAU
Authorization Object: S_DEVELOP object is checked at the start of transaction
GUI Support:
| | |
| --- | --- |
| SAPGUI for HTML | NO |
| SAPGUI for Java | NO |
| SAPGUI for Windows | YES |
Application Component: BC-DWB-CEX
Object directory entry: R3TR TRAN SPAU
Related Jobs:
Related Tables:
| | |
| --- | --- |
| Table name | Description |
| SPAU_UPL_DATA | Usage data |
| SPAU_TRANSPORTS | Default transport requests |
| SPAU_SETTINGS | Settings |
Related Views:
| | |
| --- | --- |
| View Name | View Description |
| SPAU_E070_E071 | Object transport assignments |
Related Transactions:
| | |
| --- | --- |
| Transaction Name | Description |
| SPAU_OLD | Display Modified Objects |
| SPDD | Display Modified DDIC Objects |
| SPDD_OLD | Display Modified DDIC Objects |
Screenshot: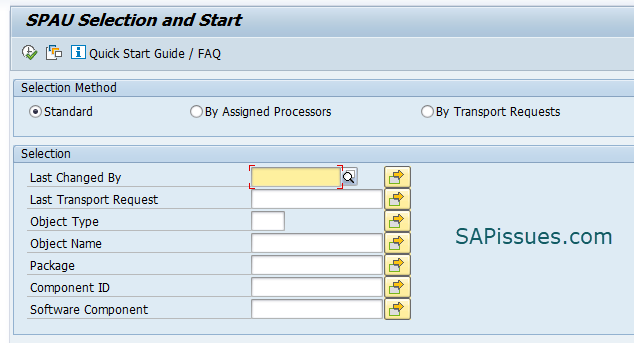 SPAU_OLD

Video Tutorial